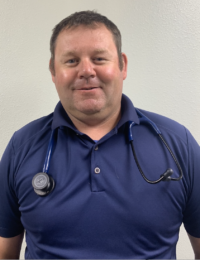 Dr. Ryder Holderman is an Oregon native and received his Doctor of Veterinary Medicine in 2004 from Oregon State University School.
Dr. Holderman practiced mixed animal medicine in Eastern Oregon and Western Idaho for 15 years. He was actively involved in founding and participating in the Ontario Feral Cat program to catch, neuter/spay, and release feral cats in the community where he practiced in Eastern Oregon. He also volunteered as the veterinarian on call for the Malheur County Fair for over 10 years. He is a member of the AVMA and the OVMA.
Dr. Holderman is married to Claire Holderman, a Spanish professor at the University of West Florida. They have two children, Sydney and Isaac. Dr. Holderman is an avid golfer. He and his family enjoy living on the Gulf Coast near some of the most beautiful beaches in the world. He also enjoys reading, traveling, hunting, fishing, and spending time with his lab, Jasper, cat, Tigger and Dash, a King Charles Cavalier.